Shammi's brother Jashan's first day at Shammi Vlogs
All of you are welcome in this new blog titled Shammi's brother Jashan's first day at Shammi Vlogs so stay with us In this blog, we will talk about Shammi's cameraman who is Shammi's cameraman as well as his brother.
Shammi's most of the vlogs are shot by his brother Jashan and he also has his own YouTube channel named Jashan. As a cameraman, Jashan tells his experience of how he felt working with his brother Shammi.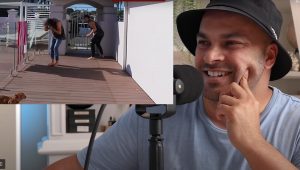 Jashan tells us about the experience of his first day, he tells us that he used to be a photographer earlier. And once in a similar conversation, Jashan asks Shammi if he needs any help in making a vlog, then tells him, on which Shammi tells Jashan to shoot his vlog.
Jashan on his first day shoots a video titled "I GOT PUNCHED IN THE FACE". Jashan enjoys shooting it a lot, he tells that he enjoys working with Shammi. Jashan also tells a lot related to that video as if Shammi had come first in Jayden's hand in that video, then he would have gotten a very strong punch on his face from Jayden.
And with that this blog ends I hope you liked my narration, click on the link given below to read more such funny articles.