Shammi cooks for the first time
All of you are welcome to this new blog titled Shammi cooks for the first time so stay with us In this blog, we will talk about when and how did Shammi cook for the first time So let's talk. It is in February of this year when Shammi gets a call from his friend Blackie from Uncut Kitchen.
I hope you have heard its name before Uncut Kitchen is a YouTube channel of a special friend of Shammi, as the name suggests, funny videos related to cooking are put on this channel. This channel is run by Shammi's very good friend Blakey and he is the owner. So When Blackey invites Shammi to his show for cooking.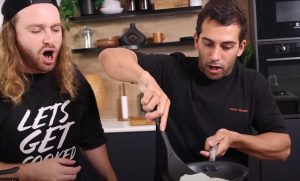 Shammi says yes to cooking and goes to Blakey's show. There, Shammi learns that Blakey has also invited Austin to his show Shammi thought that only he was called but it was not so. Seeing Shammi confused, blakey tells Shammi that he has called both of them on his show so that he can have a cooking contest between Austin and him.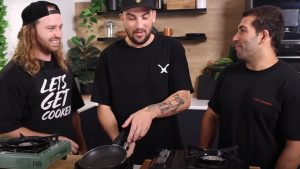 After that, we get to see a cooking competition between Shammi and Austin in which both of them have to make pancakes. To win the competition, they have to make as many pancakes as they can, and they have 20 minutes. The one who makes the most pancakes will win and the one who loses will have to eat the pancakes made by the winning player.
The match starts, and both of them first turn on the gas and we come to know that Shammi does not even know how to turn on the gas, he is cooking something for the first time. As soon as Shammi turns on the gas and starts making pancakes. By now Austin was ahead of Shammi. Seeing Austin overtaking Shammi starts to disturb Austin for not making pancakes properly.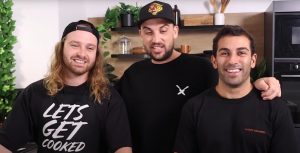 Shammi disturbs Austin a lot, due to which Austin also disturbs Shammi. This goes on between them and along with this, they keep on cooking. After 20 minutes, when it is seen who made the most pancakes, it is known that Austin made the most pancakes. Shammi made the worst pancakes ever Austin was the winner of that cooking competition.
After this, due to the loss in the cooking match, Shammi has to eat the pancakes that Austin made. And with that this blog ends I hope you liked my narration, click on the link given below to read more such funny articles.