Shammi Trying To Make The Bulls Angry
All of you are welcome to this new blog titled Shammi trying to make the bulls angry so stay with us In this blog, we will talk about what happens when Shammi goes to LA, so let's start from the beginning to understand everything correctly. It starts with a funny prank by Shammi in which he runs away with your brother Jayden's clothes while Jayden is shaving his beard it was hilarious to see.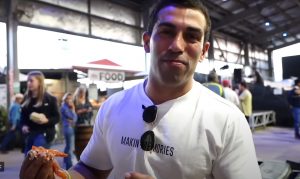 After this, Shammi reaches Rockhampton, LA with his friends, before going inside the hotel, Shammi gives a challenge to everyone. You have to jump over 2 dustbins simultaneously and the one who completes this challenge will get 500 bucks. So first of all Jayden accepts this challenge and both try to jump over the dustbin together.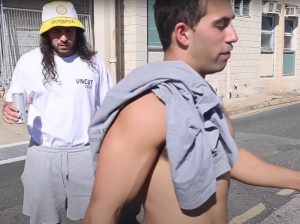 Jayden jumps but he spreads his legs while jumping from the dustbin, due to which this jump is not considered right and Jayden fails to complete the challenge. And next comes blakey who is very excited to complete this challenge but it doesn't happen as expected.
blakey fails miserably in doing this and also gets some injuries on his body. Seeing blakey falling, no one knows how to stop laughing and everyone is laughing a lot, blakey himself too. After this everyone asks Jane to do the same, to which Jane agrees and says yes to the challenge.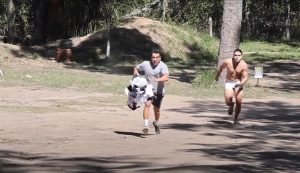 So Jen jumps and he can't, when Jen jumps, a little bit of his leg doesn't come out over the dustbin, which makes him fail on the first turn. At this everyone tells Jane to give it one more try, so Jane once again jumps over the dustbin and completes the challenge this time. Everyone gets very happy seeing this, Shammi runs and hugs Jane and yes Jane gets a reward of winning Rs 500.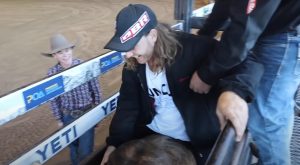 Shammi goes to the Bulls arena
After having fun outside the hotel, Shammi goes to the Bulls arena, and there he meets the Bulls' trainers and talks about the Bulls. The owners of the bull give them a chance to sit on the bull, but this is done under the supervision of experts.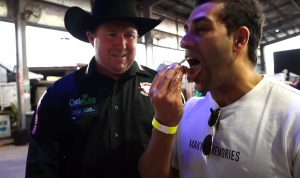 One by one everyone sits on the bull and feels what it feels like to sit on it. Everyone enjoys the show after sitting on the bulls and the show was full of thrill and dangerous stunts. After the show is over, Shammi talks to a bull owner to buy 50% of the bulls.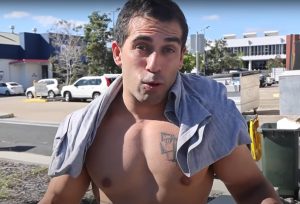 Now it has to be seen whether Shammi will become the owner of 50% of the bull's share in the future. But till then you keep reading blogs on Bulletin Expert, I love you guys, click on the link given below to read more such blogs.